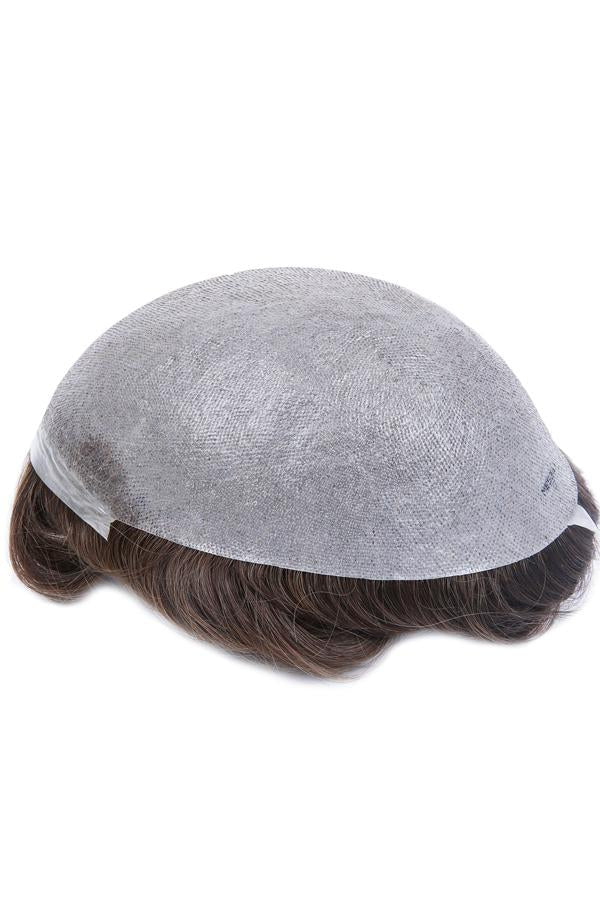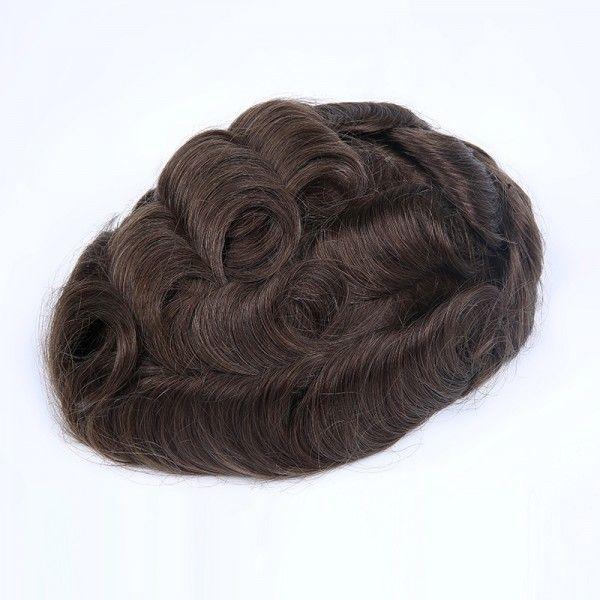 FREE SHIPPING

WELL-PACKAGED

FREE CONSLUTATION
More Information

| | |
| --- | --- |
| Base Design | 0.08mm Full Transparent Poly Hair Replacement System For Men V-looped |
| Base Size | 8"x10" |
| Base Material Color | Transparent |
| Front Contour | CC |
| Color Available | #1 #1B #1B10 #1B20 #1B30 #1B40 #1B50 #1B65H #1B80H #1C #2 #210 #220 #240 #3 #310 #320 #340 #4 #410 #420 (17 different colors in all) |
| Hair Length | 6 inches |
| Hair Density | Medium hair density (95%) |
| Hair Type | Indian human hair (grey hair is synthetic) |
| Curl Wave | Slight wave 30mm |
| Durability | 3-5 months |
| Advantage | Easy to attach with glue and tape; Natural hairline; Cut into small size |
The transparent poly hair system provides an undetectable appearance and it is easy to apply. V-looping hair ventilation at the front creates a natural hairline. The rest with the V-injection ventilation creates a natural top view with some durability. The 0.1mm stock can last 4-6 months. The standard base size is 8*10, if you want a smaller size, don't worry about that, we will provide a free cut for you. The hair of stock 0.10mm thin poly hair system is 100% Indian human hair (grey hair is synthetic), you can cut it, color it, and style it as your own hair.
Pls check the follow pictures:

Hair Replacement System Size Measurement:
A: Front to back is the length of base size
B: Side to side is the width of base size ( about 1" back from temple position), which normally should be the widest position:


The lifespan of hair replacement system depends on various factors, such as the quality of the system base, the type of hair, and your daily maintenance routine. Here is an approximate timeline guide:


1- 2 months
2 - 4 months
4 - 6 months
5 - 8 months
5 - 7 months
6 - 9 months
7-12 months
for 0.03mm thin skin hair systems
for 0.05 mm thin skin hair systems
for 0.10 mm thin skin hair systems
for 0.15 mm thin skin hair systems
for Swiss lace hair system
for French lace hair system
for mono hair system
Please send back the mold (with the hair sample) by using DHL, UPS, or FedEx. If you sent it by other Express, it
would be slow.
Make sure the value to be under 9USD and said item is: Sample

The shipping back address is :
Shaofeng Li (Newhairline)
Room 305 Qucheng Building, Dongping Street 309
Industrial Park, Suzhou, Jiangsu, 215125
China
+8618351035613

After sending your hair template & hair samples, please inform us of the tracking number.

"Custom" means your hair replacement system is tailored to fit. Your new unit will be shaped and sized to
match your unique balding pattern. It will be color matched, cut and styled to blend naturally with your own
growing hair.
There are 2 ways to help:

1. Send back a mold and a piece of your own hair sample(to match the color and curl etc.).
2. Send back a old unit you wear for reference. So we can make a perfect duplication.
3. Order directly online: https://www.newhairline.com/collections/toupee-hair-systems

For stock hair system, we will send it in 1-2 days;
For custom hair system: Standard Time 8-10 weeks, Rush Service Time6-7 weeks.